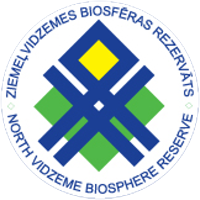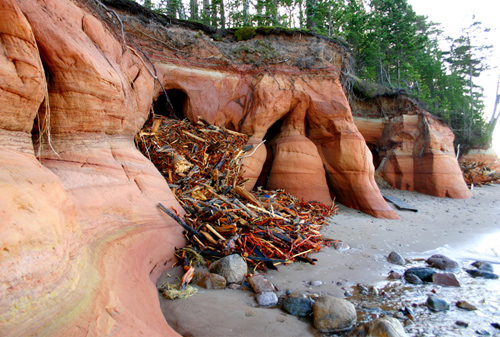 The North Vidzeme biosphere reserve hereinafter NVBS was founded on December 11, 1997. It is currently on the greatest special areas of conservation (SAC) in Latvia. NVBS was recognized as an internationally important conservation area within UNESCO program "Man and Biosphere" (MaB). It was officially included in the global Biosphere Reserve Network. However, it can be said that NVBS started its existence way earlier, in 1990. That was the year when North Regional Nature Protection Complex, which served later as a basis for the foundation of NVBS, was established.
The North Vidzeme biosphere reserve covers the entire territory of Salacgriva Region. There are the following important places and objects within Salacgriva Region: nature park – Salaca Valley; nature reserves – Vidzeme Stony seashore; Randu meadows; Mernieki marshlands; Hill swamp; Carateri; the Great Swamp; Reed-Pilkas Swamp; as well as such geological natural monuments as Ežurags Red Cliffs; Krauji Stony Island; Liv Sacrificial Caves; the Great Precipice Sea-stone; the Muizuli Stone; Pietrags Red Cliffs; Svetciems Stony Island; Veczemji rocks. There are several micro restricted areas and biotopes that protect the species that live there. There 49 trees that have been granted the status of the great tree, the potential great tree or the status of a significant tree.
Biosphere reserve represents the ecosystems of forest and Baltic Seashore typical for moderate climate zone. It also includes the small coastal river basins of the Vidzeme part of the Gulf of Riga. The territory comprises 457,708 ha land area of such regions as: Salacgriva, Rujiena, Aloja, Mazsalaca and Naukseni as well as a part of territory of such regions as: Limbazi, Burtnieki, Valmiera, Strenci and Valka. The territory roughly takes almost 6% of the overall territory of the Republic of Latvia. Almost the ninth part of Sea coastline of the Republic of Latvia or in other words 57 km with the conjoined territory of 17,806 ha of water area up to 10 m depth is included into the territory of the reserve.
More than half of the territory of the NVBS is covered with forests and swamps. The value and importance of the swamps and marshes is confirmed by the fact that 20 of 28 specially protected natural areas of the NVBS have been established for the protection of the territory of swamps and marshes. The territory includes 24 nature reserves, 1 nature park and 2 marine protected areas that are simultaneously included into Natura 2000 that is a network of nature protection areas in the territory of the European Union.